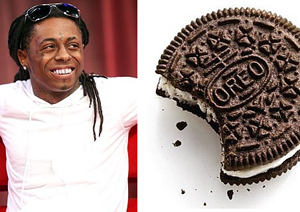 Lil Wayne, rapper extraordinaire, had busted up the Guinness World Record for getting 588,243 likes in a brief 24 hour period. The record was previously held, if only for mere hours, by Oreo, the cookie.
Oreo had gone out to set the World Record by posting their intentions on their Facebook page. The brand encouraged fans to 'like' the page so they could achieve the most 'likes' in a 24-hour time period.  When Oreo's time had expired, they had managed 114.619 'likes'.
Lil Wayne also announced his intention to break the record Oreo was out to get and posted as much on his own Facebook Wall. When Lil Wayne's time expired, he had easily broken Oreo's record without a problem. The rapper boasts a fan base of more than 20 million Facebook users and it is believed that he was able to break the record so quickly due to his frequent interaction with his fans. People often peg Lady Gaga as being the number one Facebook presence but Lil Wayne's digital manager stated the artist has a huge following on Facebook and knows how to work social media.
Even an internationally known and loved brand doesn't seem to have the power of an international celebrity but bravo to the company for achieving the first record, no matter how short it lasted.
One Reply

Leave a Reply