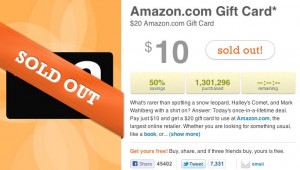 You saw it. You drooled. You bought it.
Actually 1,301,296 of you bought it.
You got a $20 Amazon gift card for just $10. Nice!
LivingSocial got $13,012,960 in gross sales for one day's work. Not bad!
This seems like an ideal win-win situation.
However, there's more than meets the eye.
This could be very well the beginning of the end for group buying.
Mashable has been warning us for a while that group purchasing has gotten much less effective at the local level, precisely where local businesses and local-conscious consumers originally found so much value. Haven't you noticed the rise in so many acupuncturists, hair salons,  and spas "deals"?
Now that group buying is going mainstream and is not longer a little "hidden gem", Groupon and LivingSocial providers are now seeking top national and international brands to do group purchasing deals to maintain their growth level and justify their high market valuations. Back in August 2009, Groupon experimented a group buying deal with The Gap. This deal sold 445,000 coupons for $11 million in gross revenue for Groupon.
LivingSocial selling Amazon.com gift cards and Groupon selling Gap deals has 3 important implications:
Good bargains are attractive no matter what. Call it a "Black Friday deal", a "clearance sale" or a "groupon". However, if everybody starts doing the same thing (oh, didn't you hear that Google is planning to start a Groupon competitor?), then is it really a bargain?
Big brands that are struggling with sugglish sales might now be able to do a quick one-time deal through group purchasing to receive much needed funds.
Local, small businesses need to move on to another platform. As Groupon and LivingSocial start seeing the opportunity cost of investing time in a couple hundred local deals instead of one big national deal, requirements for local businesses will surely start to increase.
Article by Damian Davila, author of 4 Tips for a Successful Email Newsletter. Follow him at @idaconcpts.
3 Replies

Leave a Reply