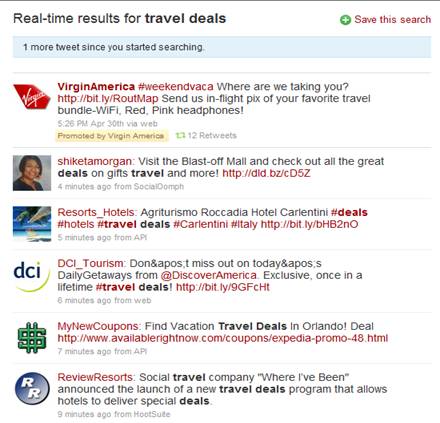 Image courtesy of Twitter.com
Another travel season has arrived, and many seasoned world travelers will be cranking up the RVs and dusting off the sky miles. In a tough economy however, it can be a real challenge to get a decent vacation without spending a fortune. Welcome to the age of technology, where a little elbow grease at the old keyboard can net you tons of savings from airfares to hotel rates to restaurant prices. Moreover, by getting in touch with your fellow cyber-travelers, you can find out about the places to avoid and the must-see attractions at your chosen destination.
While sites like Expedia.com and Orbitz.com can glean untold savings in the way of hotels and airlines, good, old-fashioned word of mouth is about the best advertising possible, and that adage usually works in the favor of the consumer as well. Sites like Twitter and Facebook make it possible for those looking to find out more about a certain travel destination to talk to others who have been there and have nothing to gain by sharing their honest opinions about their own experiences when traveling, as opposed to the word of a travel agent looking to make commission from a sale.
The premise behind using social media as an aid when planning a vacation or trip is to do your homework.  While Twitter is good for specific keyword searches such as 'hotel rates' and 'airline fares', Facebook is based upon searches of the 'Groups' pages, which can be anything from a hotel to a restaurant to an airline. The groups can also be people who are in a particular niche, such as people who tour castles, or those who are irresistibly drawn to craters. Whatever the flavor of travel excitement is, it can be found.
Don't just stop at the big name sites like Twitter and Facebook. Sites such as the World Travel Forum at VirtualTourist.com allow travelers to connect with each other and offer advice, tell any news in the travel industry, and tell their travel experiences. The discussion forum at Travel.com covers virtually EVERYTHING you could possibly want to know about travel. There are even forums about digital cameras and cars, since, as the site points out, people use digital cameras when traveling and sometimes travel in cars.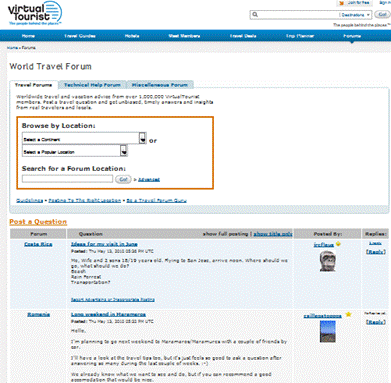 Image courtesy VirtualTourist.com
Blogs are another unique way to get travel information. Dedicated travel bloggers share their experiences, opinions and news about travel in recurring editions of their blog. The discussions the blogs generate are often-times as priceless with information as the blog themselves.
As the burgeoning preferred format for trip planning, social media sites offer personalization and individualized results a travel agency or generic discount rate site cannot compare to.  A little research and diligence in planning can save you a lot of money and frustration, and will allow you to enjoy your trip to the fullest.
Trina L. Grant is a freelance writer and social media consultant. For more information about social media visit Professional Freelance Writing & Editing Services.
4 Replies

Leave a Reply