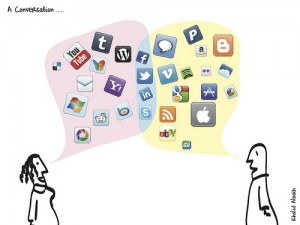 It is difficult to measure your social media engagement. However, you can tell if your audience is attentive when you chat with them through the social media. The following steps can help you get started:
Dump pointless metrics
Here, vanity numbers will not help. Increasing the numbers of your Facebook fans or Twitter followers is a good thing; however, the number of followers and likes only measure those who could be conversing with you, and not who is actually chatting.
Mold measurements to your brand
The second step involves auditing the social media channels that you are actively involved with, before determining what is worth to evaluate. You are the only one with the power to decide what is important to you. However, common metrics may include things like:
How many comments per blog post
How many responses per Facebook post or tweet
How many brand mentions per a reporting phase
How many shares per content item
How many leads nurtured per a reporting phase
How many reviews per product
How many favorites per item
How many questions answered per a reporting period
How many downloads per content item
Additionally you could also track other advanced metrics such as:
The rate of participation per content item (interactions divided by the whole views)
Percentage share of the voice (brand mentions divided by the whole of the industry mentions)
You could also spare some time reflecting on metrics that do not matter that much to your brand. A few examples include:
Do not misuse precious customer feedback. You could keep count of the new product ideas or the improvements you get per reporting period. Furthermore, ensure that they are sent to the correct party within your organization.
If you are asked the same question from time to time, build up content aimed towards such questions. Record the pieces of content you get per reporting period, and whether you get the same question less often thereafter.
Find your baseline
After picking on the metric to measure, assess where you have reached. That will be your baseline. Thereafter, decide on how frequent you need to report on your metrics before deciding on the goals for the next reporting period.
Sign up for help
You should consider talking about tools only after figuring out what to measure. Seek help that would simplify or automate the process of measurement. Notably, a single tool will not give you everything because you have personalized your metrics.
Keep on going
The mentioned tips are the most difficult. As you go on, you will find new metrics to measure. The process should keep growing as you learn and improve on your media engagement.
This post is written by Donald, he works at myoutdesk. You can hire efficient virtual assistants at Myoutdesk.com.
Image Credit: 1.
No Replies
Feel free to leave a reply using the form below!
Leave a Reply