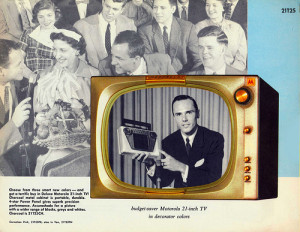 Social media is making inroads into how we interact with TV. However, many media sources would have you believe that social media is already a significant aspect of how people interact with TV. However, that is not the case. We are merely scratching the surface when it comes to how much social media is used in conjunction with TV viewing. There is lots of room for growth and development as we focus on building viewer interaction in a way that truly can be two-way.
Social Media Has a Long Way to Grow
A study done by the Council for Research Excellence (CRE) analyzed data about on how much we interact with TV on a daily and weekly basis. Social media was the least used when compared to online (non social media) interaction, marketing on TV and offline communication. If fact on a daily basis only 12% of people interacted using social media, while at the high end of the scale 41% used offline communication. On a weekly basis 37% of viewers used social media to interact with TV while 84% used offline communication.
Results Vary When It Comes to Social Media
The TV genre matters greatly when it comes to TV interaction on social media. The study concludes that talk/new shows, sports and sci-fi are the groups most likely to have active participation in social media before, during and after the show. Comedy shows have some TV interaction on social media also, but it tends to be before or after the show only.
Hispanic individuals use social media in general more than others and are more into TV interactions via social media than most other groups. Additionally, if an individual has a mobile device that is Internet enabled, he or she is much more likely to take part in social media interaction.
"Super Connectors" Are the Driving Force
The study identified "super connectors" as the people most likely to interact with TV using social media. They are typically female and young and comprise a mere 12% of the population. They are also very likely interacting with TV in other ways as well. This segment of the population is twice as likely to use social media in TV interactions. When those who are interested in increasing social media TV interaction uncover the ways to motivate these influential and active "super connectors", they will see a significant jump in their interactions.
Who Will Benefit?
The CRE study also uncovered the fact that to date most social media users are only drawn to new shows that they learn about on their favorite platform. This means that even if an existing show wants to use social media to increase viewership, it may be out of luck when it comes to results. The TV shows that reach out to the active social media demographic are much more likely the ones who experience the true benefits of this as-of-yet untapped resource.
Take heart, you have certainly not missed the boat when it comes to social media's impact of TV interaction. There is much more progress that can be made. The opportunity to profit from the growth that can happen is waiting for the next big idea in how to get people invested in social media and TV interaction.
Tyhler Fawbush is a Marketing Director for OneVisionTV – a DIRECT TV authorized dealer.
Image Credit: 1.
No Replies
Feel free to leave a reply using the form below!
Leave a Reply