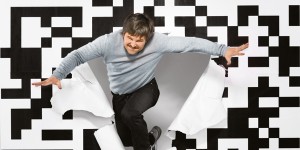 "Brands are like 11-year old boys: They want girls to talk to them, but they don't really know what to say back." This statement describes quite well the current state of the QR industry as people are interested in finding out what's behind a QR code and only get the full blown website on their phones. Pongr is a startup that wants to challenge that.
How Pongr Works
Pongr requires no additional technology other than your phone's already available features to snap photos and to send email.
1 Fan photographs self with Apple products, sends it to apple@pongr.com.
2 Pongr's image-recognition software identifies Apple logo in photo.
3 Fan is entered in contest to receive a special prize from Apple.
It is that simple. Pongr users have access to almost any brand, for example:  for Mtn Dew pics they use dew@pongr.com and for Tory Burch pics they use toryburch@pongr.com. Even if the brand doesn't exist, users can still just snap a pic and put the brand name before @pongr.com. The brand will get added automatically to the Pongr's database.
Users accumulate Pongr bucks for each photo they snap, which they can redeem for various prizes such as a $5 Amazon gift car, $10 iTunes gift card, $10 FarmVille gift card, or a $30 Virgin mobile card.
Pongr clients include Intel, Mountain Dew, Pepsi, and X Factor.
Show some love to your favorite brands and win prizes with Pongr at http://pongr.com.
Damian Davila is an Ecuatoriano tech blogger and online marketer thriving in Honolulu, Hawaii. You can read more articles from Damian at SexySocialMedia here. Follow Damian on Twitter at @idaconcpts.
One Reply

Leave a Reply