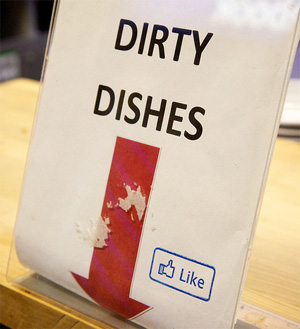 Where has marketing gone? Is the day of big budget corporate executives debating the 4P's gone? The same marketers that once scrambled to drive purchase decisions are now trying to simply acquire likes. Are they really that valuable? Well according to a Chompon.com research report, a Facebook like is worth a whopping $8 per like in terms of gross revenue per action, where a retweet is simply worth $5. Okay, great your business acquired 100 likes, where is my $800 dollars? Well, you may be missing the point, acquiring likes isn't a direct revenue generating activity, and that alone is a reason that so many people have adopted social media.
What It Means
Social media, especially Facebook should be used in a long term strategy to aggregate customers and relationships. A "like," to traditional marketers means nothing besides a platform to advertise. That is where most traditional marketers miss the point, according to Jason Falls,
"Companies need to come down from their Ivory Towers and talk to the people with whom they hope to create relationships."
So what does this all mean? From a marketing standpoint, a like should serve as a platform for brand exposure, contact and communication. A like will only take you as far as you let it take you. If you only update your Facebook page once a month, and fail to respond to people interested, you are missing out and losing customers. Facebook likes have a lot of value for companies; however the value comes with communication, feedback and promotion.
What Others Are Doing
The first thing companies are doing is changing the way they view communities. Instead of hunting people to purchase your product, you simply market to your social media following as your customers, a much easier pitch.
Of course as always, there are companies doing it all wrong. Some companies think that the value of social media comes in the number of followers or likes you have. There is a now an industry around selling likes to businesses, typically running around $79 for 1,000 likes. Greg Shove from MediaPost asks,
"is $0.079 per Like too cheap to ensure quality? Duh. What's the right price? I'm not sure. It's been pretty well documented that brands are using Facebook ads to acquire Likes in the range of $1-$3 each, but could that also be too cheap?"
Don't place an expectation value for your social media strategy; it will limit your opportunity
Remember not all likes are created equal. Each individual will have a different motive to like your business. Some people are looking for unique content, and some people may be more interested in purchasing your product. Regardless of motive, targeting influencers within your community is the key to acquiring more, relevant exposure.
Ultimately the value of a Facebook Like is what you make it. There are variety of ways you can cultivate conversions from social media, but that should never be your intent. Keeping an open, honest and sometimes humanistic approach to your social media strategy will keep you relevant and prosperous.
Matt Krautstrunk is an social entrepreneur, writing extensively on everything from social media to telemarketing for Resource Nation, an online resource that provides expert advice on purchasing and outsourcing decisions for small business owners and entrepreneurs.
cc licensed flickr photo shared by Marcin Wichary
7 Replies

Leave a Reply