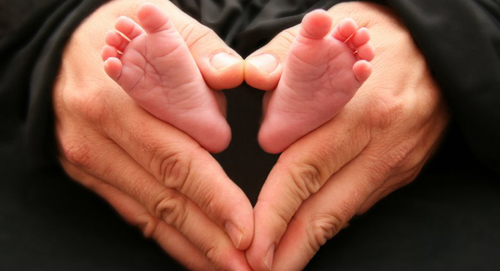 Moms have very solid online presence. There are mommy bloggers, mommy networks and mommy communities. But what about dads? Don't they want to share ideas either?
Here are just a couple of examples of how dads meet online:
Odadeo is a newcomer in the social media world and already got very positive reviews from a number of reputable blogs.
The site provides user-contributed parenting tips, pledges and questions. Odedeo connects blogger dads, busy dads, separated dads, as well as any other type of dads that you can come up with. This all ends up in quite a few unique features:
Make pledges about things that will make you a better dad. Keep an eye on your progress;
Share tips, links and recommendations.
Keep in touch with what your kids are doing with mini status updates that multiple people can update via web or SMS.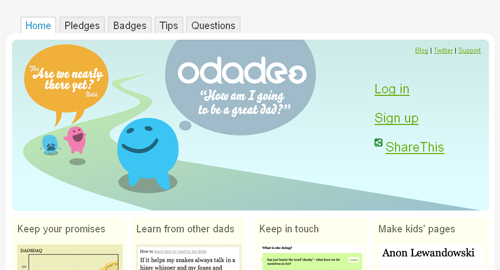 Dad Talk is a UK social network for soon-to-be. new and experienced dads. It offers a number of really fun features:
Daily newsltetter containing "test; thought; fact; idea; challenge";
Dad's tips and articles;
Dad's forums to ask a question and share experience.
DadTalk gets dads talking on and offline. Whether it's sharing or accessing information, or getting answers to the questions that face us all – chances are, a dad out there has the answers already!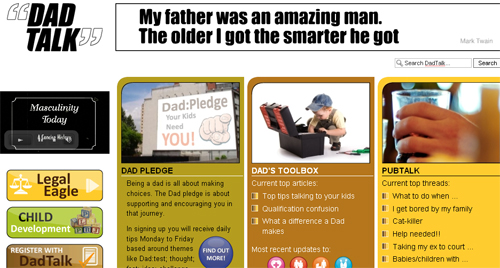 Dad Labs the collection of useful videos educating dads on how to cook, talk to the kids and do other fatherhood staff.
Dads can download and share thier videos as well as make friends with other memebrs.
No Replies
Feel free to leave a reply using the form below!
Leave a Reply