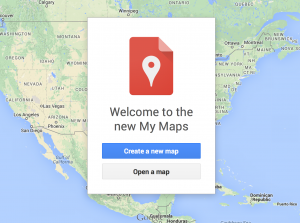 A few years ago, Google announced the launch of the then 'My Maps' (some of you may know it as 'My Places'). The product was not as widely used as Google's engineers had hoped – as a result, it was not highly marketed and seemed to fade away into the background as Google introduced a range of newer and more exciting Google products.
In 2013 Google introduced a new programme called 'Google Maps Engine Lite.' This programme asked users to import their maps into this product, with Google intending to merge the two services together, but this never happened. It was also not supported in the new Google Maps update that was brought into place earlier this year.
The 2014 re-launch
The new 'My Maps', introduced in September 2014, is an updated version of Google Maps Engine Lite.
What has changed?
This time around, the two services have been merged together. As well as this, Google has also promised that all old maps will be automatically upgraded towards the end of the year. Users have the option of creating new maps, or those who previously used the service, can update their previously saved maps manually by following a few short and simple steps.
Some features from the older product are still available to users on the new update, including:
Saving places that you have previously visited
The directions that you have followed in the past
How long it took you to get to your destination and the date you travelled
The maps still give you the option to save photos and videos associated with each map that you have saved. This makes it easier to remember places you have visited in the past.
Google has added new features to this service update as well:
Users are now able to make particular places of their choice on their maps stand out with different colour codes, making places easier and quicker to find. For example, restaurants previously visited could be highlighted in blue to distinguish their location from supermarkets or small convenience stores highlighted in a different colour
The new update gives users the ability to share their Maps online, as well as on social media sites and platforms. This feature could be beneficial to businesses as people could share a product or service they have just received, as well as a picture of where they are located on the map online
Locations can be imported from spreadsheets and saved in your maps
Your maps can now be personally organised by adding layers to your saved locations
Like being able to colour code your map, the new update allows users to label features directly on the map that are of interest to each individual
How will this help businesses?
It has become very important for businesses to have an accurate Google Maps listing, as many consumers will use this platform to find you. Having this in place is also beneficial to your SEO strategy and ensures your business stands out from the rest.
Danielle Haley is Co-Director for one of the South East's leading SEO agencies – Freelance SEO Essex. Danielle has worked within the SEO industry for a number of years and has seen the growing importance of businesses using Google Maps.
No Replies
Feel free to leave a reply using the form below!
Leave a Reply