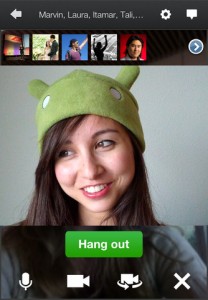 The new Google+ iPhone app blows away a few widely held assumptions, captures the hearts and minds of reviewers, and begs the question: is even a clear victory going to be enough to make Google+ a household name?
There's no way to talk about the Google+ app without talking about the things Google usually does, and didn't do this time. Gone is Google's iconic white space and sparse text; instead, we have a graphically compelling interface focusing on an almost dramatic photo-based presentation of posts. With the placement of your avatar and the "teaser" initial lines of text, what you see is less of a social media app and more like a mobile magazine – a sleek digest of the people and things that matter to you.
Looks count for a lot, especially on an Apple product, but they're not everything. Luckily, Google+ makes it intuitive and engaging to post, navigate through your stream, and interact in all other ways with the app. Google tosses out the desktop structure and icons, in favor of a social media app designed from the ground up for mobile devices. I'll go so far as to say that it's the best social media app in the iTunes store.
There's also no way to talk about the Google+ app without talking about everyone else.
Take Apple, for example. The design allows Google+ to achieve exactly what a third-party iPhone app should: integrating perfectly into the overall iOS design aesthetic, while establishing a style and experience its own. Releasing the app on iOS before Android is a deeply clever way for Google to use Apple against itself, because we all know that media and the market will jump on anything Apple-related. Google gets far more attention that they would from an Android-first release, and loyal Android users are pacified with the promise of upcoming "special extras" (and one-upping Apple in the process).
And then there's Facebook. Zuckerberg himself has admitted that they're not good at mobile. With an IPO looming and GM declaring that Facebook advertising doesn't work, Facebook needs a Google+ success like it needs a headline privacy breach. Sure, there's still no comparison between the two when it comes to user base and activity level… but one of them gives users a freshly compelling social network app on the world's most-loved phone, and the other merely has an unsatisfying scaled-down version of last decade's desktop client.
Bottom line: What if Google won the war and nobody came? Users and reviewers agree that Google+ is an outstanding social media app for iPhone. But they also agree that it won't mean much unless more people use it more often. After all, Google's problem is not the quality of its products, even Orkut was well-liked by the six people who ended up using it, but the challenges of adoption and competition.
Greg Buckskin earns his living doing SEO and writing about everything from technology to pop culture for CableTV.com. Follow his writings and random web finds on Twitter.
Image Credit: 1.
2 Replies

Leave a Reply