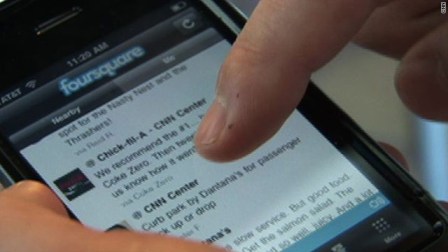 Foursquare, the location based social networking platform, has hooked up with CNN and the 2010 FIFA World Cup to connect there fans from around the world. More than 100 venues will be available for FourSquare followers and fans of World Cup and CNN (www.foursquare.com/cnn). "Checking in" at one of the CNN venues will unlock a special CNN Badge.
To unlock the CNN badges fans are required to "check in" at any of the CNN tagged locations three times during the month long World Cup event. Between June 11th and July 11th the South Africa Explorer badge can be earned by going to various stadiums, landmarks and other venues in the host city.
It is hoped that fans will take part in the Foursquare fun and share tips with other fans and Foursquare users. For more information about special CNN badges go to Foursquare.com. For people who are FIFA followers but will not be traveling to South Africa, "check ins" at can earn then the Super Fan Badge.
What is Foursquare?
One of the most fun start ups to reach the masses Foursquare rewards visits to places, businesses and locals with fun 'badges'. Members can earn badges for 'check ins' at grocery stores and even the local library. Being the most frequented person to a certain venue will grant you a Mayor status and a Mayor badge. Some businesses are building on the popularity of Foursquare and offer Mayoralty Specials.
One Reply
Leave a Reply