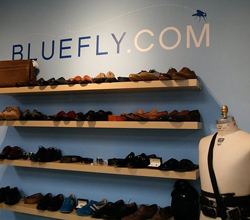 Bluefly, the online designer fashion retailer, has started a partnership with Badgeville to add gaming experiences to their website visitors that also offers social rewards.
Bluefly will start providing their online shopping customers with rewards and incentives based on how they shop. Each time users of the site watch videos, peruse blog posts or write a review, the site will provide incentives in the form of badges. These badges are meant to highlight the 'fashion credentials' of the website shoppers.
The object is to collect more badges that get progressive more distinguished. As a reward, users can then unlock tangible rewards courtesy of Bluefly which may be exclusive early access to products, discounts, and specials only available to badge earners.
Bluefly is hoping to create a more engaged shopping experience for their users and hope to start setting trends within in the fashion industry and among competitors. Badgeville, which is a new startup, is hoping to attract more clients of a higher level with their Bluefly partnership to stand out from their own competitors.
Both companies believe that social games are a hot topic and at the forefront for developing even more personalized shopping experiences for the website visitors. The user experience becomes more involved and more fun and allows those with a passion for fashion to become a part of the fashion experience.
2 Replies

Leave a Reply