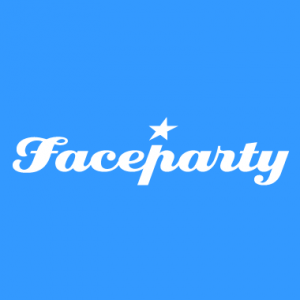 Faceparty is a social network based out of the United Kingdom. This network is unlike many others in the world for one main reason: it costs money to join.
You can only browse the very surface of this site at no cost; if you want to get involved you either need a special passcode or you will need to shell out £25. This network has been around for several years, and while it appears to be alive and well, is it worth the cost. The following review should help to reveal whether or not Faceparty is worth the money.
Review
When you navigate your browser to Faceparty, your eyes are assaulted. The site is bright and vibrant, but it is designed so that it only runs down the center of the screen. While this may look good on a mobile device, it looks almost silly on a computer monitor, and it makes the print hard to read.
As you navigate the few areas of the site that are available at no cost, you will notice how hard the site is trying to be low brow, as even the area where you enter the user name and password has text reading "open the friggin' door." The legal speak and official documentation even includes slang and words written so they sound like a Brittish street punk is sneering at you.
This site isn't about punk rock, however. The site seems like a site dedicated to being young, partying and picking people up. The profiles I saw all featured low cut tops, exposed cleavage, shirtless lads with six pack abs and broody pouts. There were also lots of folks in a state of undress. Most of the profiles on the site are barely filled in except for innuendoes, and the ones that are often complain about the quality of the other folks on the site. It seems like Faceparty is like MySpace or Skyrock but even more shallow. In 2008, the site had over 7 million members, but shortly after a change in ownership, all but 200,000 members were booted from the site.
The site's owners claimed that the purge was due to a need to comply with child protection laws, but it seems that the general contentious is that the site got rid of anyone and everyone that was too old. Additionally, despite the membership fee and other barriers, many users report running across too many obviously fake profiles. Even on the front page, there were several profiles that hadn't been updated in a year or more, something that would be unusual for a young man or woman in their early 20s with a membership to such a site.
Conclusion
It seems like Faceparty is a complete waste of money. While used often as a dating platform, users may have difficulty finding a real, legitimate user in their area. The site is busy and looks like an obvious rip off of MySpace. While the site did purge much of its members in 2008, they may not have needed to, as they probably would have left themselves by now.
Written by Frederic, freelance writer, data recovery specialist, interested in films, music and indie bands.
One Reply

Leave a Reply