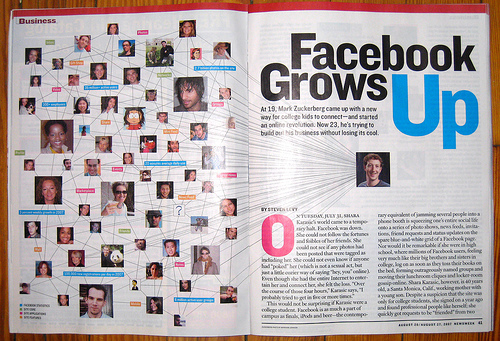 Facebook is a social networking site that was launched in February of 2004. It is privately owned. Facebook has more than 60,000,000 users. Users generally make a profile, add other users as their friends and are able to exchange messages. You have to be at least 13 years old to join Facebook.
A Compete.com study ranked Facebook as the most used social network service by worldwide monthly active users. Facebook has overcome MySpace for this title. It is estimated that 42% of the U.S. population has a Facebook account. Facebook has over 1,700 employees and offices in 12 countries.
Users create profiles with photos, personal interests, contact information and other personal information. They can share this with their friends that they have through Facebook. They can send both public and private messages. They also have a chat feature where you can have a private IM chat session with your Facebook friends that are also logged in. Facebook has really strong privacy settings, although it has also come under criticism in this regard. The privacy settings allow their users to choose their own privacy, but can be confusing. They allow users to choose who can see specific parts of their profile.
Facebook is 100% free and generates a profit from advertising, such as banner ads. One of Facebook's most popular applications is their photos application. This allows users to upload albums and photos and share then with their Facebook friends if they choose. People can also go through and comment on the pictures their friends have posted. Facebook allows its users to send virtual gifts to their friends. These gifts cost $1.00 each to purchase.
Facebook is the most popular social networking site in several English speaking countries.  It is a good way to keep in touch with old and new friends. It's a good way to re-connect with people and find people that you haven't talked to in a long time. You can search for anyone as long as you know their first and last name or their email address. You then have to send what is called a friend request. The person will see that you have requested to be their friend and can either choose to accept or decline your friend request. Once they have accepted your friend request you can communicate with them, see their personal information, photos and anything else that they have on there to share.
Claire Jarrett runs Marketing By Web, who offer Google AdWords Management.  Find her company Facebook fan page here
2 Replies

Leave a Reply