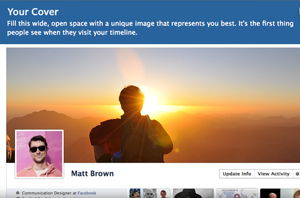 People across the world love love using Facebook, and the sense of community it allows with everyone in your list of friends. Many times we build up a group of "Facebook friends", people we've never met in real life and probably would not want to if we had the chance. One of the greatest features of Facebook is the ability to defriend anyone who we feel is not making a positive contribution to our friend list.
All of this is about to change. One of the newest features coming to Facebook is the Facebook Timeline feature. The Facebook Timeline is currently in beta testing, and is only available to Facebook developers. It's relatively easy for anyone to receive access to Facebook Timeline. Below are two possible ways to receive access.
Method 1 (easy but slow): Anyone who has a Facebook account can go to facebook.com/about/timeline and press the green sign up button for Facebook Timeline. This will give one access to Facebook timeline when the feature is pushed out to all Facebook accounts. There isn't a street date for this feature yet, so it may be several weeks to several months before this feature is rolled out to all accounts.
Method 2 (fast but more involved): Facebook developers have instant access to many different features and applications currently being developed for Facebook. Any Facebook developer will have instant access to the Facebook Timeline. In order to create a developer profile on Facebook, it's necessary to create a basic Facebook application.
Go to facebook.com/developer, and allow Facebook developer access on your Facebook account. Click on create New App, and follow the instructions for creating a new Facebook application. Under the name and description for the Facebook application, enter anything you want. Profanity or other vulgar words can not be used as titles for Facebook applications. After following the prompts, you will be asked for the function of your application. Choose a noun and a verb for each box to describe what you application will do. Click on next, and you will see the Facebook Timeline feature on the next screen.
Under Facebook Timeline, it's possible to see anyone whom you have defriended or who has defriended you. Select a year under the Facebook Timeline application, and select the Made # of Friends list under timeline for the year selected. A list of all friends will come up under that list. Any friends who have an "Add as a Friend" link next to their name have defriended you, or been defriended by you. It can be a painful experience seeing how many people don't want to be your friend, so it may be best to only look at one year or two. Conversely, it's possible to see if you have become a more or less likable person over the years, based on how many people have removed themselves from your friend list over time.
The Facebook Timeline feature is still being developed, and a release date for the application has not been scheduled yet. There is lots of controversy surrounding the Facebook Timeline feature, so the ability to see who has defriended you may be removed before the final release date.
Josey Wales, a resident of Vail Colorado, enjoys snowboarding and finding the best Vail Vacation Condos for his friends so they don't have to stay on his living room floor. Find him blogging for Gore Creek Properties in exchange for ski lodging deals from time to time.
One Reply

Leave a Reply