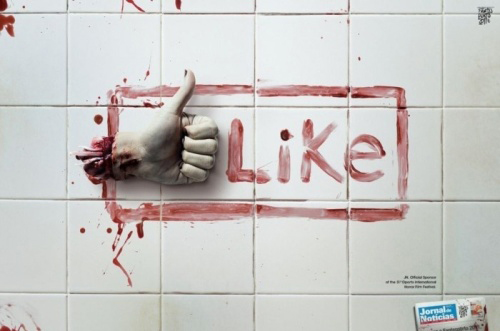 Facebook pages can be a big help to drive traffic to your resource and connect to audiences. However, it's a common problem of the Facebook business accounts owners that after reaching a several thousand likes threshold, pages seem to attract fewer fans than before and posts get less feedback than ever. This latency may be caused by numerous factors, comprising the declining popularity of the content that page owners post to Facebook.
To engage Facebook fans and turn them into a loyal community is not an easy matter. You shouldn't forget that nobody of your fans has promised to become an evangelist of your company, so no one is obliged to welcome any your post, if only this person finds it interesting and worth sharing.
What are the ways of Facebook fans engagement? In fact, they are numerous and diverse. I'd like to focus here on images as the type of Facebook content that has a great potential to attract fans' attention and drive new page likes.
As the saying goes, a picture is worth a thousand words, especially if this image is shared through social media channels. People are always lazy and time pressed to read huge text passages or watch long video clips. A bright, funny image is way better accepted and shared by Facebook community. Just stick to the following tips to get the most out of your image posts.
Pick up viral or at least appealing pics
Images may cause viral effect the same way as videos. Trendy image topics can work miracles: involve mass sharing and commenting. Of course, it's a hard work to find a catching picture. I suggest you pick up several image-hosting sites under Creative-Commons license and follow the content updates. For example, Flickr users often share within diverse groups. Join those which relate to your niche and feel free to borrow the most eye-catching images.
Connect to your niche
You should be consistent in your image posting, so don't walk far from your resource topic. If you deal with PC software, your images may concern any trends in technology and the Internet. Alternatively, you can stick to a certain tradition: for example, announce a weekend beginning or congratulate on national and universal holidays. There's a plenty of ideas, just don't be afraid to experiment and track the feedback in order to find the best strategy.
Attention to thumbnails
If compared to status and link updates, photos and videos appear larger in the news feed, so that users are more likely to click on them. Still Facebook account holders view only image thumbnails in the news stream, so they should be catching enough to draw attention and induce users to expand them.
Therefore, pictures with multiple tiny elements which are not rendered well in thumbnail size should be excluded.
Grab attention with description
Be sure to add a description that encourages users to open the photo. You may accompany your picture with a phrase of wisdom or witty saying or ask users' opinion to push interaction. Don't forgert to remind your fans to like and share the image, as due to the latest Facebook feed update, users' interaction plays the decisive role in post climbing into Top Stories.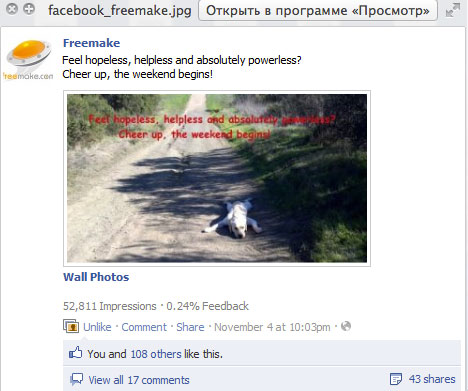 Watermark for self-created pictures
If you have enough skills to make your own images, that's a great option to set forth your brand awareness. Just put the watermark on the picture protect your creative work and increase brand recognition, as Facebook is only the initial stage for your picture web life.
Push sharing and comments
Start driving interation yourself. People share and comment posts more willingly if someone else has already done this. Be the first to share the image to your personal Facebook wall. Ask your friends to do the same and drop a few words to say how cool the picture is.
Elena Vakhromova is an IT enthusiast, guest blogger and SMO specialist. She observes popular Windows applications and take part in their promotion in the social media channels. The last contribution was for YouTube Converter from Freemake.com.
No Replies
Feel free to leave a reply using the form below!
Leave a Reply