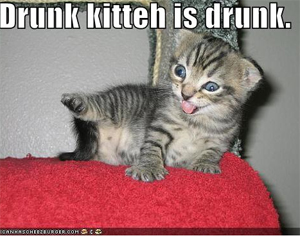 Everyone likes to have a good time but some individuals go over the edge and leave inappropriate messages on social media sites while in a drunken stupor. Text messages, Facebook status and Twitter updates should not be done while fueled with tequila chasers.
To avoid making what seemed at the time to be a clever response, welcome the Social Media Sobriety test. Developed and sold by Colorado internet security company, Webroot, the package has a tag line of "Protecting you from all possible threats, even yourself".
Before being able to post to your favorite site, the Social Media Sobriety software makes users perform one of the simple "road side sobriety tests". Tests are designed to fail users that have had too much to drink and restrict them from posting inappropriate updates. When this happens Webroot will post an alternate update. Something inappropriate about your boss, professor or ex-girlfriend will replaced with something tamer such as "UserName is too intoxicated to post right now".
The software allows users to choose which social media sites to protect. Facebook, Myspace, Twitter, Flickr, YouTube, Tumblr are all included for protection. Once the platforms are chosen then the user blocks the hours to prevent inappropriate posts from being updated.
One Reply

Leave a Reply