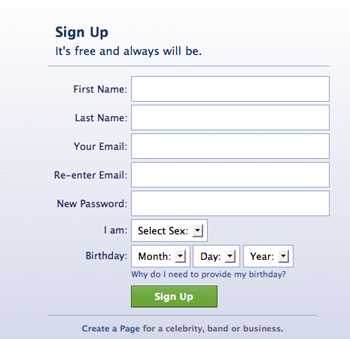 Good news for Facebook fans! The design of the interface of our favorite social networking platform is soon going to carry some necessary changes. The changes will mainly be made for the sake of the user's security and not for the design itself.
Now the hackers from the third party games and apps probably won't be able to do their dirty work any longer.
According to Penn State University researchers when the Facebook users sign up for the games or apps they are not aware that from that moment they are actually starting to be hacked. So, most games and apps are being used by the hackers for privacy preferences.
Studies showed that all of the 11 Facebook testers needed the security improvement.  As for the design most of the participants wanted their screens to be multicolored.
Now the sign up process for the games and apps is going to have different terms of information disclosure.
The new Facebook sign-up screen that features three boxes will enable the users to choose what information to display or share with the other users thus preventing the too much exposure of the personal information.
Xu together with Na Wang, who is the doctoral candidate, and Jens Grossklags assistant professor of sciences and technology, designed two third-party privacy screen options. Now the sign-up will comprise information of general type.
The data will allow you to display your birthdate, hometown and some pics.
For ordinary people such data like birthplace is not a vital factor. However, experts say that for hackers even birthdate can be portentous to guess social security numbers.
Members who signed up for the new privacy settings say that this time the design   is completely different from the previous Facebook sign-up settings.
Use the new Facebook privacy settings and don't let the "games" override your privacy.
Bio: My name is Roman and I adore writing articles on any topic. If you want to know more information about facebook marketing, feel free to contact me.
One Reply

Leave a Reply