While the latest wave of Internet services, ranging from Salesforce to Google Docs to Skype, has incremented the productivity of workers around the world, it has at the same time introduced new challenges for IT departments everywhere.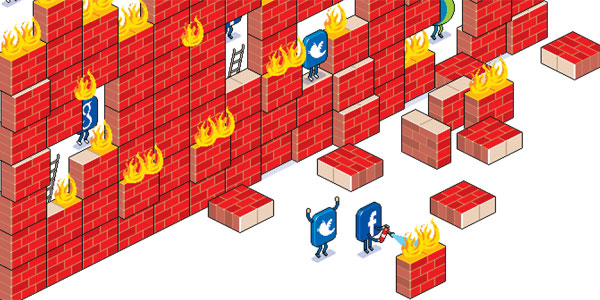 The Challenge
In the past, IT departments could rely on standard firewalls and harware tools to keep malicious hackers at bay, but the problem is that these standards and tools were created in an era before most of the newest productivity tools ever existed. Instead of capitalizing on the advantages of sites such as Facebook, the old guard of firewalls aims at blocking the sites altogether, which not only frustrates users but also encourages illicit ways to access them. Which in turn, creates additional problems that the IT department was trying to avoid in the first place.
The Challenger
Nir Zuk founded Palo Alto Networks, which has developed a modified firewall that better enables organizations to track suspicious Web activity without blocking whole sites. For example, this firewall does not block Facebook, instead it allows users access social media updates but strips away links or the feature to share sensitive information.
According to the website of this fast-growing firewall developer, here are some of the unique capabilities available only in its next generation firewalls:
The only firewall to classify traffic based on the accurate identification of the application, not just port/protocol information.
The only firewall to identify, control and inspect SSL encrypted traffic and applications.
The only firewall with real-time (line-rate, low latency) content scanning to protect against viruses, spyware, data leakage and application vulnerabilities based on a stream-based threat prevention engine.
The only firewall to provide graphical visualization of applications on the network with detailed user, group and network-level data categorized by sessions, bytes, ports, threats and time.
The only firewall with line-rate, low-latency performance for all services, even under load.
The Opportunity
Even though the firewall market may not sound exciting, the economics behind it surely are. Palo Alto Network sells specialized data center machines that range between $5,000 and $140,000 each. Among its current 4,500 customers, eBay, the city of Seattle and Qualcomm stand out from the crowd
Image: Bloomberg Businessweek
By Damian Davila, blogger covering tech and gadgets at idaconcpts.com. You can read more articles from Damian at SexySocialMedia here. Follow him on Twitter at @idaconcpts.
No Replies
Feel free to leave a reply using the form below!
Leave a Reply