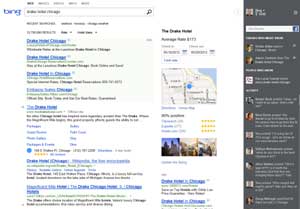 This month, Bing announced their Social Sidebar – well timed for just a few weeks after uproar in the SEO industry from the Google Penguin update, and a few days before Facebook's IPO. As their market share of search creeps up – and as users in blind trials say they prefer Bing results to Google – is it time to start paying more attention to Bing?
What is the Social Sidebar?
In a nutshell, Bing now display search results in three columns (so far just in the USA, but rolling out to the rest of the world soon). The middle column has core search results as they have always been but without the mixed in social results that Bing have been including for the last few months. This still has some signals of what is trending, and what your friends have liked, but these are simple arrows/thumbs, and unobtrusive compared to the old mix of social/core on Bing and, indeed, compared to Google's social results.
The side bar has four main social sections (and can be toggled on and off with one click):
Friends who might know – Facebook results from friends who have given signs of knowing about that subject. These signs include photographs, likes or conversations.
Ask friends – lets you ask your Facebook friends if they can help you find what you just searched for in Bing.
People who know – searches the web and social networks, and suggests people who may be an expert on that subject.
Activity feed – a stream of Bing searches by you and others in your network that have utilised Facebook in one of the above ways.
How Does it Compare to Search Plus Your World?
Whether or not the results are better or worse depends on the preferences of the individual user, but the general consensus is that having a separate column provides a cleaner search experience – allowing you to easily ignore the social results if you want.
The main benefit of Bing's social results is that they use Facebook rather than Google Plus and, as far more people have an active and representative Facebook account than Google Plus account, the results are more likely to be useful. Further to this, Bing also draws results from Twitter, LinkedIn – and even Google Plus! Google can't access Facebook at all, and not much data from Twitter.
Will it Mean More People Searching With Bing?
Bing's market share is now 18% – still small compared to 66% for Google, but steadily growing. There is some evidence that users prefer Bing results – but factors such as the popularity of Google Chrome (which is now the world's most popular web browser) and the powerful force of habit, mean there's not going to be any major shift any time soon.
What Does This Mean for SEO?
Bing is showing signs of wanting to provide a cleaner and genuinely more useful search experience. The question is of whether or not searchers will take notice of this and start using it more.
As always, creating great content that people will want to view and share is the best way of getting attention from all search engines.
No matter what happens with Bing and Google, it's never good for marketers to put all their eggs in one basket. Making efforts to rank in Bing as well as Google is always a good idea, not least for a future where Bing becomes more popular as a result of well-timed and well-received developments like these.
This article was written by Aaron Charlie for Silicon Beach Training – leading providers of SEO training as well as Social Media, Content Marketing and more. Our training takes place at our dedicated Brighton training centre or at your place of work.
11 Replies

Leave a Reply