As more and more parents work longer hours just to make ends meet, their supervisorial time of their children will inevitably in many cases shrink. When that's the case, the potential for problems increases.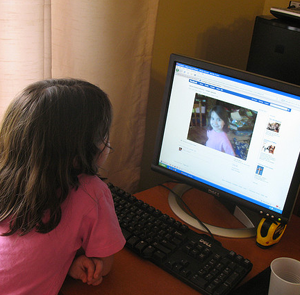 According to a recent survey from Microsoft Research of just over 1,000 parents, 36 percent of those parents knew their kids had joined social networking leader Facebook prior to the age of 13.
Even more disturbing, the survey reveals that a large percentage of those mothers and fathers assisted their children in lying about their age in order for them to join. Facebook, along with a number of other social networking sites, requires potential new members to identify themselves as 13 or older.
Other data from the survey shows that:
The age of 12 is the mean age whereby parents of kids presently 13 and 14 noted that their child became a Facebook member (Facebook's minimum age to join is 13);
Fifty-five percent of parents of 12-year-olds claim their child has a Facebook account, 82 percent of those parents knew when their underage child became a member, and 76 percent helped their kids in forming the account;
Fifty-three percent of parents believe Facebook has a minimum age, while 35 percent of those parents think that it is a recommendation, not something that is required;
Seventy-eight percent of parents claimed different reasons they believe made it acceptable for their children to break the minimum age restrictions for online services.
While Facebook and other social networking sites have rules in place to help protect children, many parents have assisted pre-teens to bypass the age limit rule, thereby allowing them to interact with friends and relatives on the site.
One of the challenges for those trying to protect children who are online is just that, getting the parents to comply with the rules and regulations.
The Children's Online Privacy Protection Act (COPPA) is in place to help protect children who go online from those who mean them harm. That said the act is presently under review. Federal regulators are looking at updating COPPA to reflect the new era of social networks and smartphone apps and last month, the Federal Trade Commission (FTC) said it was seeking greater privacy protections for kids younger than 13. The proposed stricter privacy protections would increase requirements covering the gathering of personal data by Web sites and online apps, along with how they acquire parental approval.
According to the study's lead author, Danah Boyd, "The status quo is not working if large numbers of parents are helping their children lie to get access to online services."
One parent quoted for a story on the matter by Time Magazine, noted,
"I know that Facebook isn't meant for children under the age of 13, but I'm not sure what the harm is in letting my daughter join. She's mature for her age and our computer is in the living room and I could require her to be 'friends' with me. Am I a bad mother if I let my 11-year-old on Facebook?"
This woman may not be a bad mother but one who should definitely think twice about turning Facebook into her child's babysitter.
Dave Thomas, who covers among other subjects' vehicle insurance and business credit cards writes extensively for business.com, an online resource destination for businesses of all sizes to research, find, and compare the products and services they need to run their businesses.
cc licensed ( BY ) flickr photo shared by hoyasmeg
3 Replies

Leave a Reply