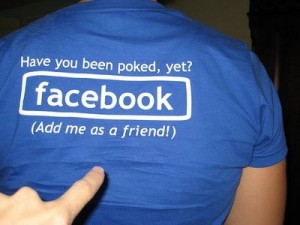 Here are the top 12 things that you should not do on Facebook.
Don't poke people you don't know. Let's face it poking, even in the real world, would not win you many fans. So why try it on unsuspecting strangers in the virtual world?
Don't send official communication on Facebook messaging— or worse, on your colleague's wall. Social networking is strictly a leisure activity, even though you often sneak into your account at work. But sending official information or talking shop with colleagues is a strict no-no.
Don't get caught Facebooking at work, especially if your boss is waiting for a file, or if you are working against a deadline. It's extremely unprofessional, and may prove disruptive and distracting as well.
Don't tag a hundred people to your posts and photographs, especially if they are not in them or associated in any way with the content. Remember that every single time a friend comments on the information that you have posted, each of your tagged friends will get a notification, and if they are strangers to these friends or strangers to the photograph/comment you've posted, the slew of unnecessary notifications can be quite a bother.
Don't throw things into farms, especially if your friend has long ago given up playing Farmville.
Don't clutter up people's walls by sending them requests to events, especially those that you know won't interest them or which it is logistically impossible for them to attend.
Don't add people just because you want more people on your Facebook list. If you do not intend to interact with them or reconnect with the old friend, don't bother adding them. It's shallow, rude and reeks of insincerity.
Don't share too much personal information on your profile, or that of others. Most Facebookers are generally careless about privacy settings, and you don't want rank strangers calling you up, just because you were too lazy to send your address or number on a private message or email.
Don't accept invitations from people that you do not remotely recollect ever having met or interacted with. Facebook is not the place to give your memory the benefit of the doubt. If you don't remember, just ask the person who has sent the request, politely. And if he or she fails to jog your memory, just click on 'Deny request.' You might be doing yourself a big favour.
Do Not Lie. We all lie but if you've claimed to be ill at work, it's a suicidal move to go on Facebook and leave behind telltale signs of your Facebooking activity. Remember, the virtual world is just a few clicks away, and will catch with you sooner or later.
Don't post spam on your status update, warning people that the world will end soon, or that Facebook will soon be a paid website.
Don't wish someone a happy birthday or a happy anniversary on Facebook. It's the laziest and most insincere way of doing it, and will probably go unnoticed and lost in the crowd of other insincere lazy bums who wished online as well. If you really care, make a call, or at least send a personalised email.
Do not buy web hosting before you check out the hostgator coupon and godaddy coupons at HostingCoupons.org as you can save upto 90% of your order value
3 Replies

Leave a Reply